Artist's Statement
"My drawings/photographs search the present moment; my paintings search for moments past."
The artist's paintings are intuitive expressionistic explorations, intended to capture a feeling, an imperfect memory or observation. When an image is inspired by a photograph, the aim is to convey what it cannot.
Series work is often figuratively based, sometimes with obscured faces, back views or the "no face" motif, reflecting the universal within our individuality.
Portfolio
This website is intended as a small online portfolio containing samples of series work, mostly paintings and drawings, but also some non-series work, sculpture and photography.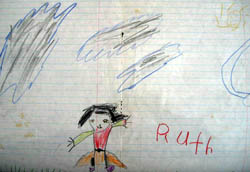 We all start somewhere...sunny day with clouds
Social Media
Hartman| Facebook Watered Art - events, photos, themes du jour.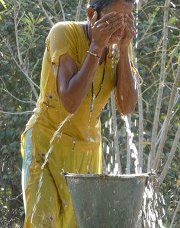 About the Artist
The artist came to Toronto in 1969 to study fine art at Three/New School of Art on Markham Street, where artists such as Dennis Burton and Robert Markle taught and greatly inspired her, as did living, working and studying at nearby Rochdale College, an 18-storey educational experiment of some notoriety at the time. The free ideals and talents of many of Rochdale's residents and visitors greatly enhanced her own creative interests and she refers to this as her 'Bloomsbury' period.
In 1972, the artist and Anne Bingham created Liberation Media, a feminist video group which presented informative consciousness-raising programs on cable television and university campuses. In 1973, they, together with Lisa Steele and Marion Lewis, organized Toronto's first International Women and Video Festival, where the fledgling video format came of age and moved from political tool to art form.
The artist returned to the study of fine art in 1989 with a 3 year diploma program at the Art Centre at Toronto's Central Tech and since then has focussed on series work and exhibiting her paintings locally and internationally.
In 1998, the artist co-founded, with Fumiko Maehara, Kathleen Finlay and others, the Bathurst Annex Studio Tour, which ran until 2004. Throughout this period, she also regularly hosted interactive exhibits at her studio in Mirvish Village during Toronto's Artsweek, which ended in 2005. In 2006, the artist exhibited paintings from dusk to dawn as part of Toronto's inaugural nuit blanche. In May 2010, the studio tour was revived briefly as Bathurst Annex Art Tour.
In 2007, the artist's photographs of Bob Dylan taken when he was 65 and her photo of him in 1965 were featured in bob65, an interdisciplinary exhibit challenging photographic illusions and the power of the created image. This exhibit was part of CONTACT, Toronto's annual festival of photography, and its 2007 theme of The Constructed Image.
In 2010, the artist again participated in CONTACT and its 2010 theme of The Pervasive Influence. Her interactive photo exhibit titled "LENS - Looking Everywhere, No Secrets" involved video surveillance of visitors and candid travel photographs of people going about their daily lives in Canada, Europe and Asia. With photos of the city and rural life of couples, royalty, and others, the artist explored our perceptions of privacy in the age of 24 hour surveillance cameras and McLuhan's view of travel.
The artist continues to exhibit in group and solo exhibits, in juried, invitational and indie contexts. Her paintings have been exhibited n many international shows in North America and Europe, and featured in exhibits in Spain (2003) and Italy (2005). In addition to this portfolio and Facebook page, her work has been part of early virtual gallery or online exhibits and continues to be referenced in online galleries.